This redefined living in Powai, promises to revamp and transform your lifestyle & turn your every moment into an unforgettable experience. A rare lifestyle unfolds at a truly exceptional address. This exceptionally exclusive space encompasses uncluttered recreational space, unhindered views, uninterrupted connectivity & unmatched detail.
Your home at Raj Grandeur is your gateway to the myriad of exclusive experiences Powai has on offer. Innumerable dining venues to frequent, a delightful assortment of hobbies to unwind with and a vibrant social environment, all set against a host of grandiose amenities. Rest assured, Raj Grandeur will lavish your lifestyle with newness every day. All you need to bring along is the willingness to indulge.
OC Ready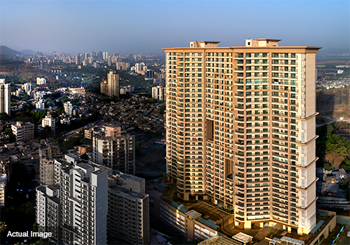 Residences
'Coveted homes take longer to curate', must've been mentioned in our rulebook of construction. These grand homes advertise the finesse in finishing, the superfluous in space and the prime in world class materials. Your home promises you an incomparable living experience bound to be the envy of Powai.
Pure Indulgence
Over 60,000 Sq.Ft. Of Amenities Exclusively For You.
Clubhouse
As fitness and well-being became pre-requisites while picking a home, we felt it necessary to connect space with utility. And so in true Grandeur style, we put together 20,000 sq. ft. of space brimming with energy. From racquet sports to treadmills or unwinding by the poolside to a space, exclusively for the young ones, the clubhouse at Raj Grandeur has something for everyone.
Life Studio
A mere push of the elevator button fulfils your 10-year-olds' desire to paint the evening sky and convinces your yoga instructor to coach under the morning sun. 45,000 sq ft space, exclusively shaped for you and your family, make the smile on your face almost permanent. Reading, contemplating, sharing moments with your family and calling dibs on the last slice of pizza with your friends are just a few glimpses of what the P2 level at Raj Grandeur has to offer!
Essentials
We pursued the elements that go into making a home, attended to the details and created perfection for you. We won't be surprised if you're awestruck by the plushness of a unique entrance lobby and the opulence of probably Mumbai's only double height ballroom. We also gave more power to your security detail and the number of elevators at your service; our way of making you feel grander!!